« JUST CRUISE 2 » is coming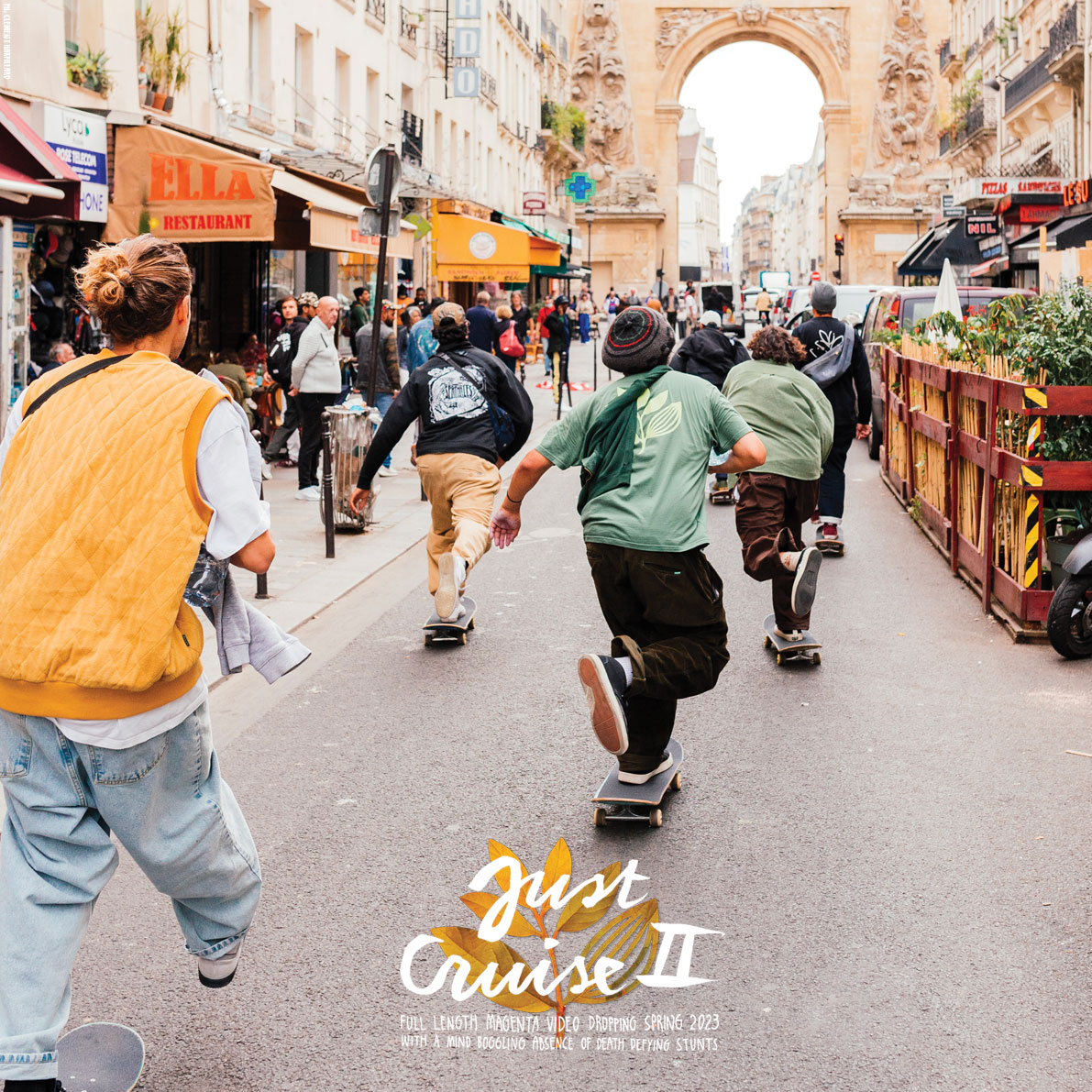 The new big video is just around the corner
WORLDWIDE PREMIERES:
BORDEAUX – CINEMA LE FRANÇAIS 31.03.23 – 20h & 21h
PARIS – CINEMA LE BRADY 04.04.23 – 21h30 & 22h45
LONDON – THE SCOLT HEAD 13.04.23 – 107A Culford RD – 8.30pm & 9.30pm
SAO PAULO – ESTUDIO LAMINA 18.04.23 – Avenida Sao Joao, 108 – 7.pm
TOKYO – PLAT SHIBUYA 22.04.23 – B1 6-27-8 Jingumae Shibuya-Ku – 18.30pm
After a hiatus of a few good years, we are happy to introduce a new Full-Length video "JUST CRUISE 2" featuring the entire Magenta team gathered from 5 continents to skate the brand's Motherland of France. The video has been 2 years in the making between lockdowns and other complexities, and is obviously a sequel to our 2016 blockbuster "JUST CRUISE" which already featured the same concept aka all the Magenta heads skating La France. `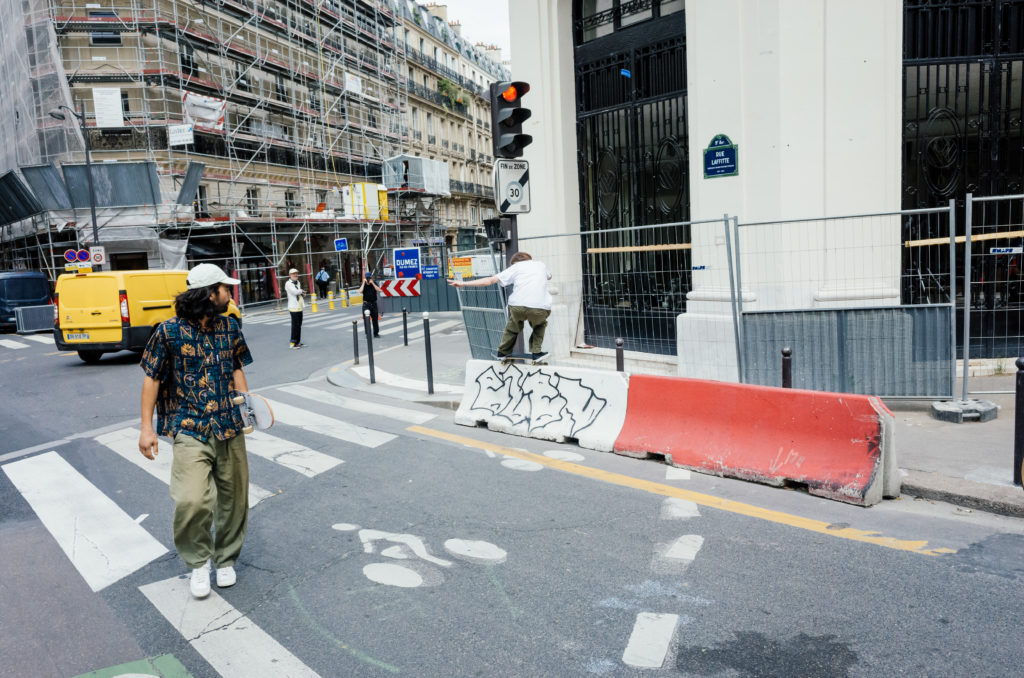 LE CREW
We have been blessed to meet fantastic skateboarders while visiting buddies and discovering new scenes around the world, and some of them became our friend and later joined our Avengers Team of the Underground (translation: they and we are broke) and most are still with us, sometimes over 10 years later. Such illustrious characters include Floating Don Jimmy Lannon, SF Powerhouse Ben Gore, Quick Feet Master Glen Fox and we pride ourselves in our mutual loyalty (and our ironclad contracts muhahahah). We drift towards mature skaters with a unique style, their own spot and trick selection. We do not share the philosophy that a skateboarders prime happens in their late teens or early 20s, as marketable as their may be to an impressionable audience. We like our skateboarders clear from acne and able to hold a decent conversation in front of a glass of Chardonnay. Passionate people that would skate even without any attention or sponsors attached. It's a plus if they focus more on their local scene and video parts aka the old-fashioned way, rather than quick Instagram gratification. Case in point Italian Stallion Ruben Spelta who up until recently didn't have the app at all and was to be found slaying the mean streets of Milan rather than racking up followers. Watch the result of such a sane approach in the video, as Rubs came through big time.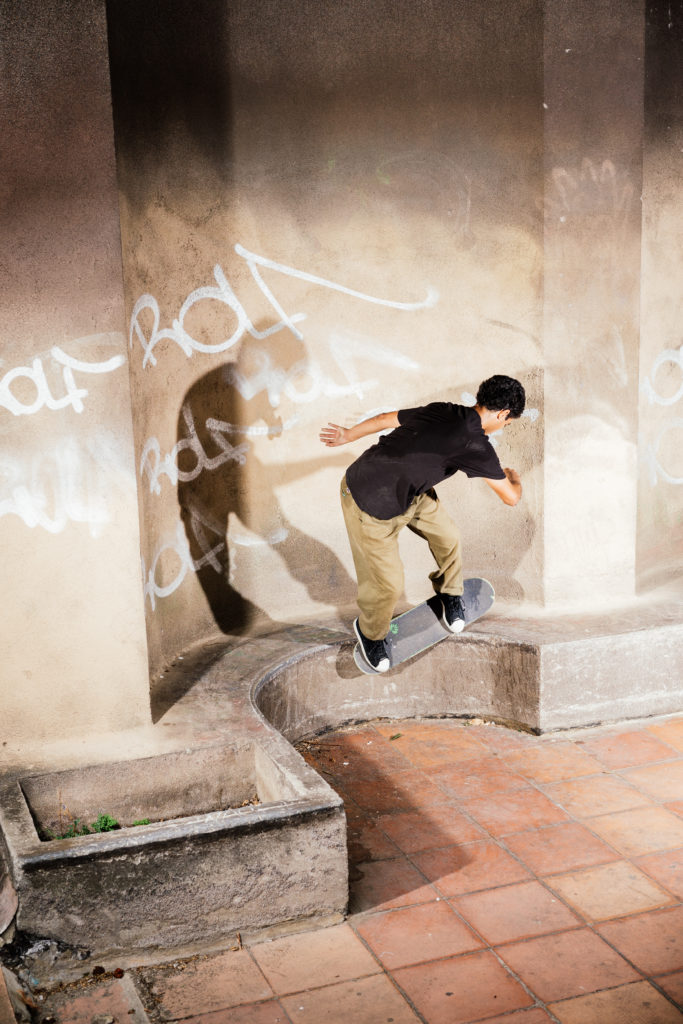 San-Francisco holds a place near and dear to our heart, as we have been travelling there regularly for the past 15 years. Our Bay Area connection kept expanding to include Loophole Overlord Jesse Narvaez and Smoothness Himself Jameel Douglas (on top of Big OG Ben of course).
Our love for the Japanese skate scene, what it brought to the table and how it influenced us has been well documented. Our SOLEIL LEVANT video highlighted our relationship with fellow Japanese skateboarders and film makers, and we will most likely release it online sometimes this year. We are honored to count among our ranks Tokyo Skate Sensei Lui Araki, a former ZOO YORK affiliate from their glorious 90's era whose unique style and approach has evolved over the years to fuse skateboarding with epic dance moves. He is complemented by Baby Face Assassin Shogo Zama, fast and smooth as you like.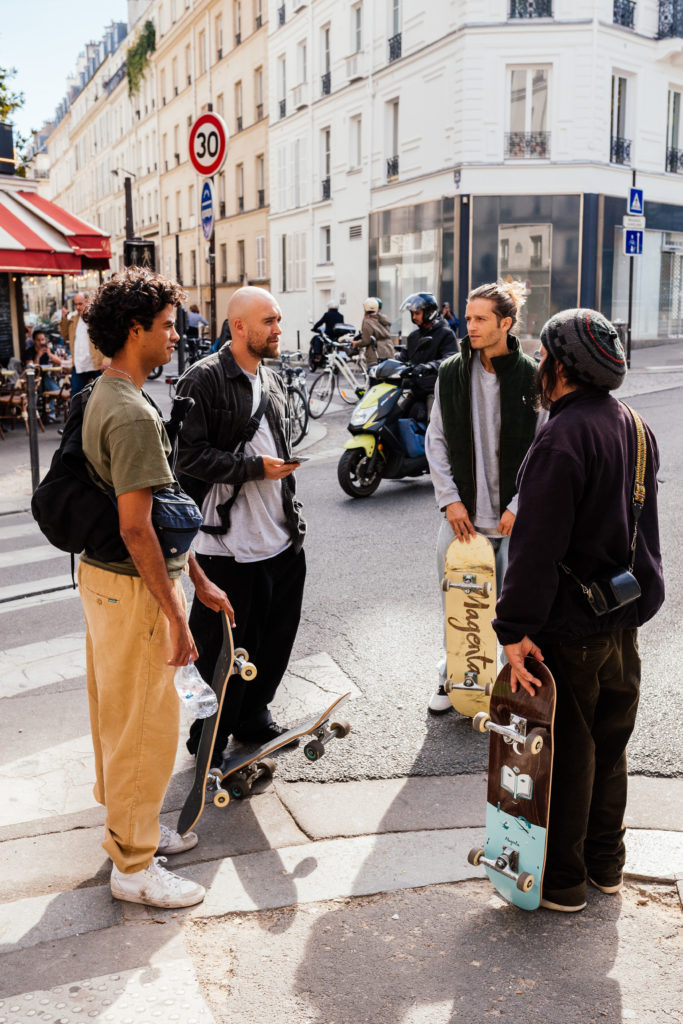 Our Oceanic Chapter has been going for a few years now. It includes our latest pro, New-Zealand Smooth Operator Casey Foley, whose fast and flowy style we were big fan of for years prior to discovering it was mutual love and drafting him in. Australian Legend and Most Youthful Old Man Alive Morgan Campbell couldn't make it to France in time for the filming, mostly due to Australia's hardcore lockdowns. But the man is working on something on its own with VX filmer extraordinaire Josh Roberts in Oz for the end of the year.
The Brazilian connection is our most recent one. Smile Instructor Sergio Santoro hails from Sao Paulo, bringing good vibes and crazy combos. Our second agent there is Mike Mag, who lives between Brazil and Florida and notoriously traveled down the Amazon River hitting every small town with enough concrete to skate it, quite legendary. They both put the shift in and stayed with us in France for several months to film for their parts.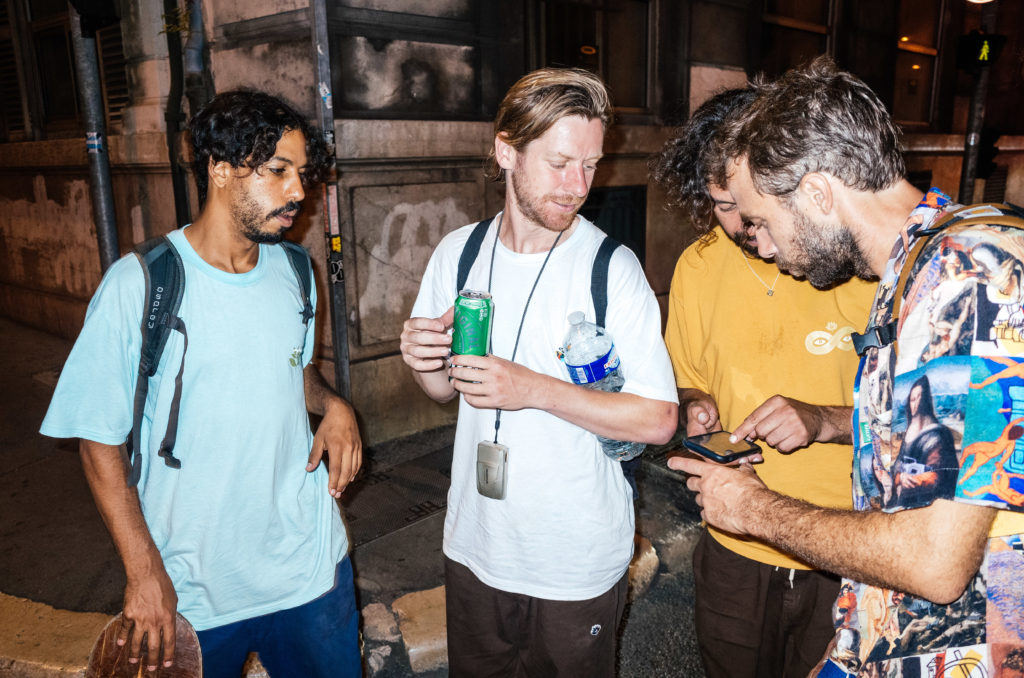 As for the Original Magenta French Associates (Soy Panday, Leo Valls and your humble servant) we are still in love with skateboarding and filming video parts (which at Soy's advanced age is a miracle that can only be attributed to the virtues of our national wine industry), and are happy to present a full part each.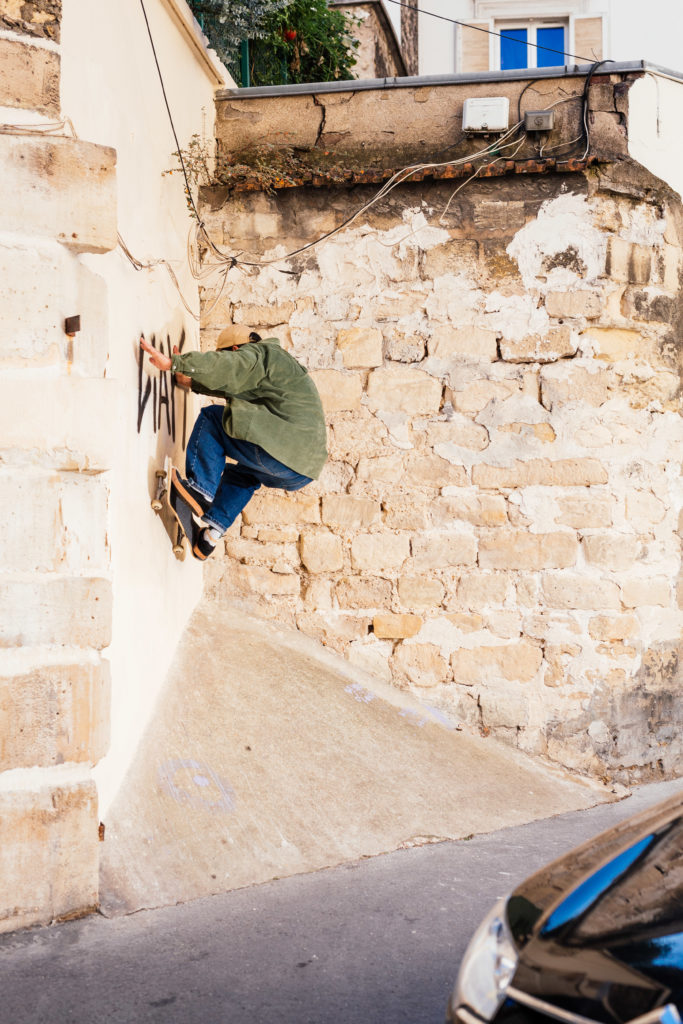 The latest addition to the squad is Lyon's own Florian Maillet aka @lepleasure_love whose versatile approach to skateboarding is refreshing and inspiring. The boy got mad style too.
On top of all the above, the video features a large chunck of friends, locals and foreigners who came to visit and share the stoke. We are still hopefull to catch the elusive Hugo Maillard in the last couple days of the filming which are basically now, but we unfortunately cannot guarantee his Godly presence in this opus.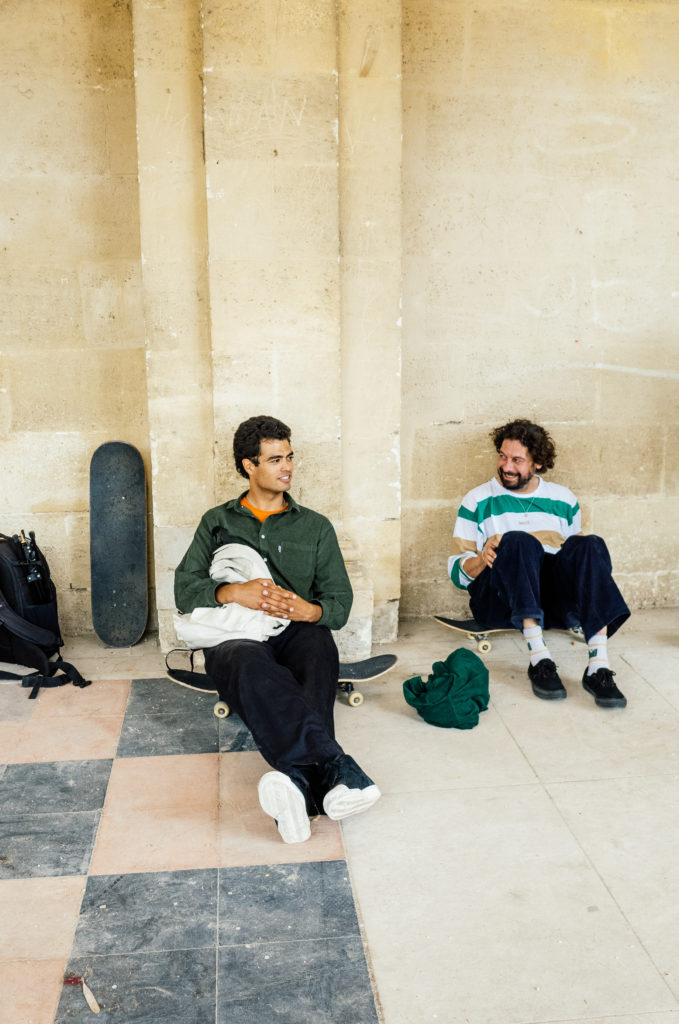 Magenta's official skate photographer Clement Harpillard, one of the funniest Frenchman you'll meet and a true character, shot most photos in this article and brought smiles to our faces on every trip he joined. Special mention to our filmers Andrea "Drew" Dupre and Stephane "Feugz" Feugasse who have done an incredible job following the crew around at a close distance, even under the harsh heatwave we experienced last summer. Big up to these boys and their dedication to the cause. Kiss your filmer, hug them tight, our culture wouldn't be the same without their massive dedication to skateboarding.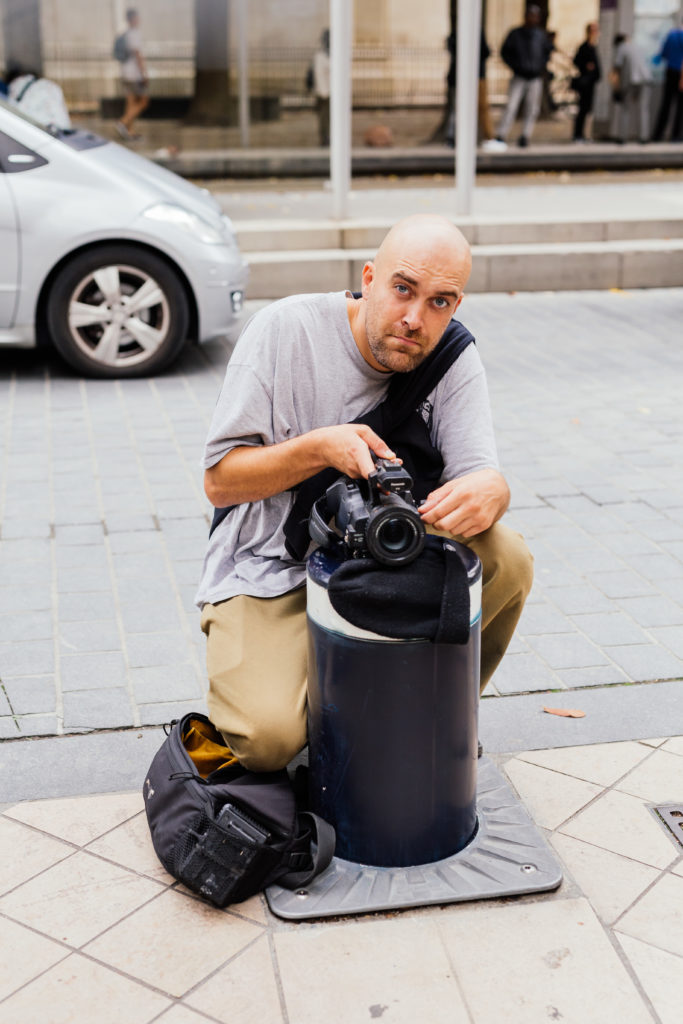 LE LOCATIONS
We grew up skating France, loving its characters and getting involved in it scenes since the 90's, before embarking in worldwide travels and adventures around Europe and then Le World. We always felt a responsibility to develop skateboarding in France, not by helping it become mainstream but by sharing the many unique skate visions we could bring back from our voyages. That's how the idea of "Just Cruise" came about: bring to our cities and spots (especially less obvious ones) skateboarders from around the world, to open new routes and exploit new spots nobody thought of yet, inspire locals to skate street more, inspire other to come visit, and add to the Book of French Skateboarding, if that makes sense.
The main cities where JUST CRUISE 2 was filmed are Bordeaux, Paris, Marseille, Strasbourg and Toulouse but you'll find some Lyon footage as well and a few other towns if you are a French connoisseur.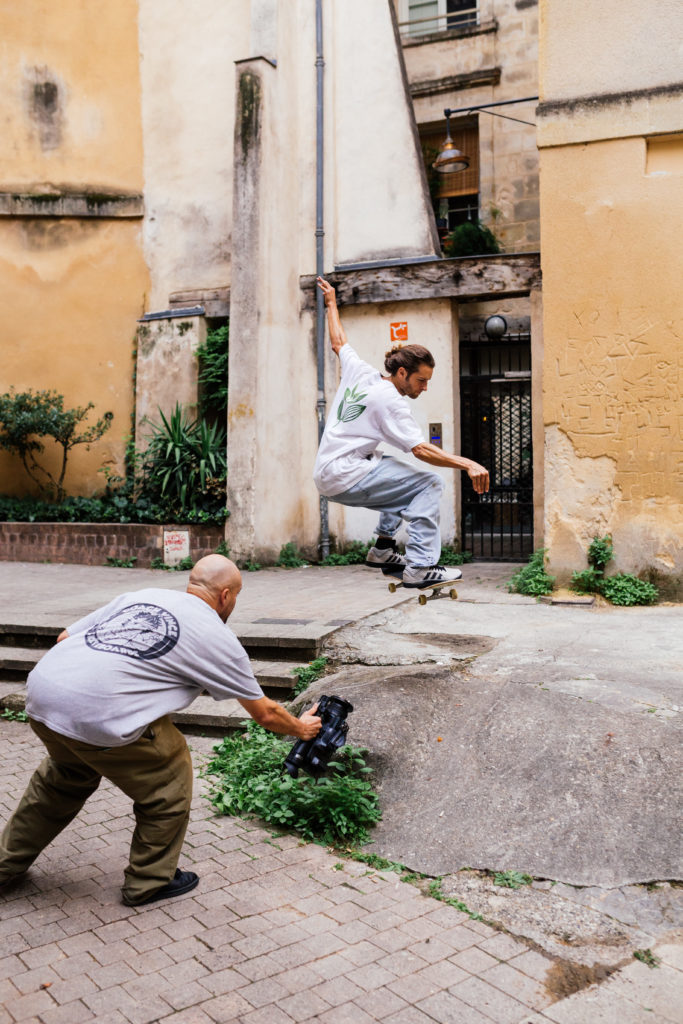 We're always on the prowl trying to hit new or less obvious spots, and you shall witness a wide array of setups you have not seen before, mixed with a minority of usual suspects.
LE VIBE
I wish I could say our general vibe doesn't need introduction, but our insistence on shooting and working only with close friends and people we ourselves deem talented, not taking in riders based on their corporate ties, and generally having a strong opinion and not stirring from it, have kept us at a safe distance from the skateboarding mainstream media pretty much from the brand's inception. We cannot boast any massive or regular coverage from "big skate media" (if there really is such a thing?) since we launched Magenta in 2010. As a result, most of you may not have a clear view of what the hell is going on in our camp, who's involved and why. Well, our deal is quite revolutionary as you may have gathered from the words above: we like the very best only, we like em mean and we like em to go biiiig: big tricks, big attitude, big tech, big gaps etc. and we firmly believe everything else should take the back seat… oops wrong pitch, those were the casting guidelines for most major skate team and skate video in the past few years… my bad. This lane has been and stays crowded, and is well taken care of by a host of talented individuals. We were never shooting for it back in the beginning and we can happily say we haven't strayed too much from our original lore since: we like respectful skater boyz & girlz with good vides and their unique flow to offer, whether in their style or approach, the tricks they chose to do, the spots they chose to skate or to avoid, and we are big fans of city center aesthetics. We like street smart people that won't disrespect or antagonize pedestrians, security guards or cops unless absolutely necessary. We aren't especially enamored with dangerous stunts as they… hurt? Super technical skating needs a level of repetition that usually erodes style drastically. JUST CRUISE 2 will be no exception: the focus is on style, flow, originality, personality and inspiring people to grab their skateboard and head to the streets, rather than feeling diminished by someone's superhuman abilities. Good vibes only.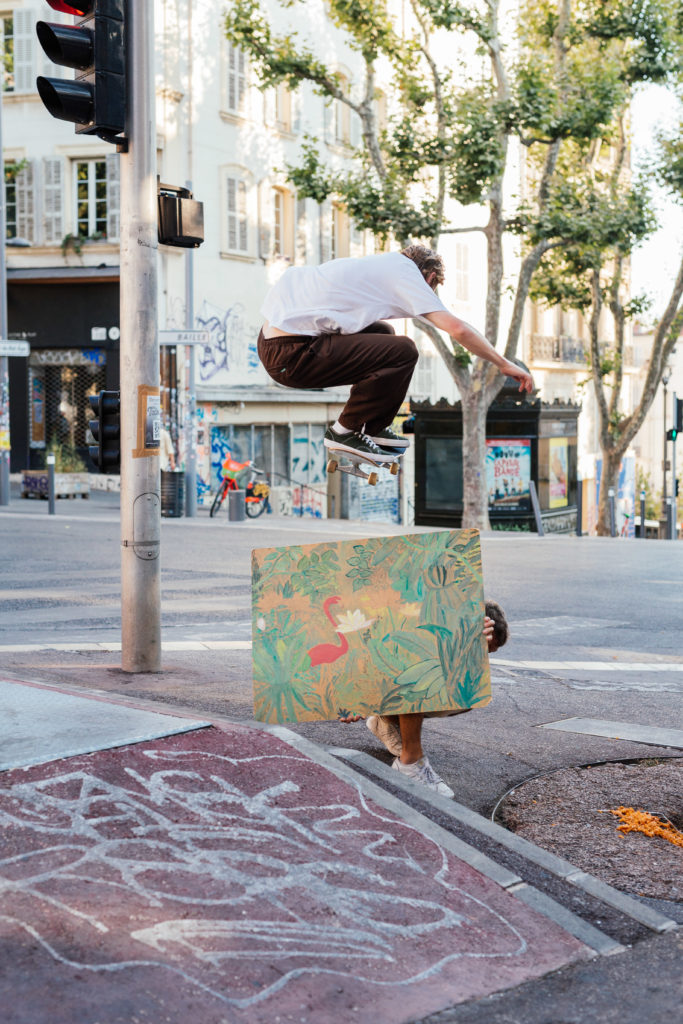 Text by Vivien Feil
Photos by Clement Harpillard