SKATING FUKUSHIMA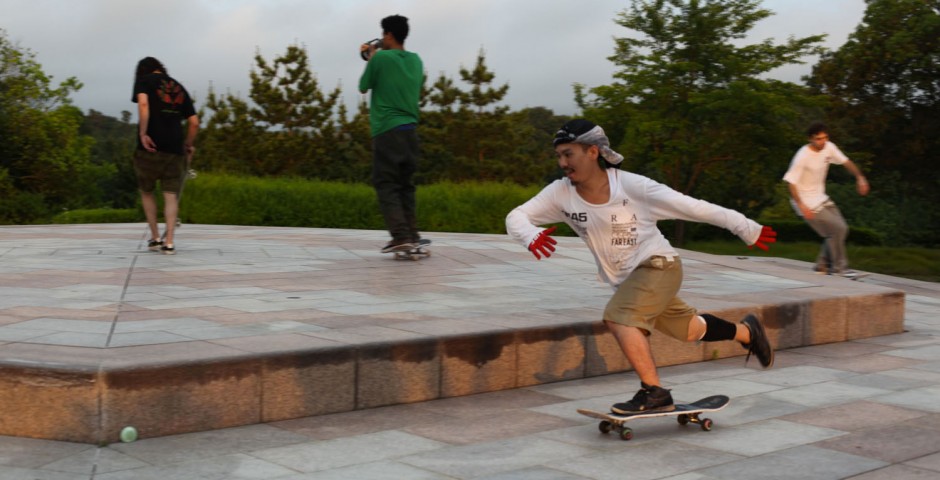 In the summer of 2013 we went to Japan to premiere our DVD Soleil Levant in Tokyo. We were greated by our distributor Kukunochi & the Nakano FAT BROS & FESN family. After the Tokyo premiere, Morita suggested we go skating in the Fukushima area, a couple hours drive away. Soy's clothing sponsor Remilla is […]
In the summer of 2013 we went to Japan to premiere our DVD Soleil Levant in Tokyo. We were greated by our distributor Kukunochi & the Nakano FAT BROS & FESN family. After the Tokyo premiere, Morita suggested we go skating in the Fukushima area, a couple hours drive away. Soy's clothing sponsor Remilla is based in Iwaki in the area, so we decided to go visit them as well.
Over 300.000 people live in Iwaki & the city was badly hit by the Tsunami and nuclear power plant explosion. Although it is a costal city you can't swim in the ocean anymore nor eat the local fruits & vegetables. Basically it is not the hot spot for foreign tourists at this point, as radiation levels deemed « acceptable » had to be moved some serious notch up. Japan is a quite tiny island where you can live only on the coasts, it wouldn't be possible to relocate the 1 million people living too close to the power plant to be safe.
As often when people are isolated not by their own choice, they are incredibly welcoming to outsiders, now a rarity. Many thanks to Good Taste skateshop & the Remilla boys for showing us a good time.
After some time in Iwaki, we headed as close as we could to the power plant to witness the damage. The feeling of rolling through a nuclear waste is eery to say the least. Nothing you can smell, hear or feel. Yet rows of abandoned towns, homes & fields in a 10 km radius around the power plant let you know you probably shouldn't pic nic in the area. It's fair to say we were all quite intimidated to witness the state of affairs there. People had been hit by the tsunami, then had to leave their homes forever shortly after, leaving all buildings to fall apart amidst cows and wild animals. We spent only a few hours in the highly irradiated area but it left a deep impression. Glad that Jean & Yoan shot some stuff we could bring back.
Upon our return in the city we went for a session at Iwaki Park along with local Hiroto Takagi, Takahiro Morita & friends. Yoan filmed the session. Earlier this year the GX1000 boys also skated the place with Morita. As always, him & Shigeta from the FAR EAST SKATE NETWORK made a beautiful job with the video. He chose to release it on the 70th anniversary date of the bomb drop on Hiroshima.
Many thanks to the Far East Skate Network & all the Iwaki locals for welcoming & showing us around & hope to see you again soon!
Text Vivien Feil
Photos Jean Feil